Overview
The Market is a location in both Kingdoms that provides all three resources to players. It has a Lottery which players can play every 24 hours and a War Chest. Players can get to the Market by typing in the command "/warp market" or by selecting the Emerald in the warp GUI.
Lottery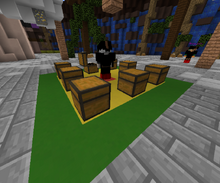 The Lottery is located in the middle of the Market and is represented by a witch. It can be played by players once every 24 hours and has a chance to reward resources or 0 Honor (nothing). If a player is in a Lottery for too long it will close and the 24 hour cooldown will begin rewarding the player nothing. A player can also open a Royal War Chest which can be bought from the Siege World Online Shop. The Royal War Chest rewards the player a kit ranging from Uncommon to Legendary.
Ad blocker interference detected!
Wikia is a free-to-use site that makes money from advertising. We have a modified experience for viewers using ad blockers

Wikia is not accessible if you've made further modifications. Remove the custom ad blocker rule(s) and the page will load as expected.